Automatic Stool Analyzer
HALO is the leading manufacturer of automated stool analysis instruments and solutions. Its main business focuses on the automation of stool specimen pre-processing and rapid inspection automation.Has applied for 28 patents and 3 international patents.
We strive to be a leader in the field of automated stool analysis within five years. HALO's mission is to protect and improve the working environment of medical staff / improve the happiness index of medical staff, and is committed to serving the majority of medical staff.
Specification:
Model NO.
F280/260/240/220
Experimental Model
Single or Batch injection
Sample Tray
Turntable, 24 specimen positions
Needle Cleaning
The suction needle adopts Teflon coating. The inner wall is flushed washed, and the outer wall is flushed with springs to reduce cross pollution
Counting Pool Cleaning
Large water blast cleaning
Ambient Temperature
15℃-35℃
Relative Humidity
≤85%
Atmospheric Pressure
86.0kpa-106.0kpa
Voltage
AC 20±22V
Power Frequency
50HZ±1HZ
Detection Rate
F280
F260
F240
F220
120
100
90
80
Dimension
900mm×700mm×1080mm
Weight
80Kg
LIS
Support
Windows
Windows7&WindowsXP
Configuration:
NO.
name
Data
Quantity
1
Microscope System
20 times
1
Imaging System
300,000 Pixels CMOS
2
Operating Software
Connectable to LIS
1
3
Host Signal Connection Wire
DB hole head 1.5M
1
4
Host Power Wire
10AV250V 1.8M
1
5
Host USB Cable
A-DB9 1.8M
1
6
Diluent
10L
1
7
Washing Fluid
10L
1
8
Waste Bucket
10L
1
9
Specimen Box
Disposable
48
10
Computer
500G Rigid Disk
1
11
Operating Instructions
1
12
Conformity Certificate
1
13
Warranty
1
USAGE
Detectable items: fecal hemoglobin, fecal transferrin, carcinoembryonic antigen, rotavirus, adenovirus, norovirus, Helicobacter pylori, cholera, typhoid, etc.
Gastrointestinal tumor
Viral diarrhea
Gastrointestinal infectious diseases
Gastrointestinal parasites
| | | |
| --- | --- | --- |
| NO | Detection | Detection method |
| 1 | Stool routine | General traits, microscopy, eggs and protozoa inspection |
| 2 | Fecal occult blood | Hemoglobin immunoassay, chemical method, transferrin |
| 3 | Virological test | Rotavirus |
| 4 | Bacteriological test | Helicobacter pylori |
PRINCIPLE
1. Specimen box principle
The specimen box is designed according to the principle of fluid mechanics. During the mixing process, a continuous hierarchical "spiral flow" is formed, which has both a high thrust surfing flow and a gentle flapping flow to ensure effective mixing of feces.
2. Function of specimen box

Observe the color and properties of stool
Egg collection function
Automatic filtering and separation of specimens
Sealed and leak-proof
Transfer specimen
Central disinfection
3. Structure of specimen box
The design of the mixing spoon ensures that the stool and the diluent are effectively mixed.
Propeller stirring can ensure that the mucus is more effectively mixed.
Boss design reduces backwater area and ensures effective mixing.
The strainer consists of two types of coarse and fine strainers: the coarse strainer functions to filter fecal residues, and the fine strainer functions to collect eggs

4. Specimen box classification
Ordinary Feces: Spoon Specimen Box
Mucus Feces: Propeller Specimen Box
5. Principle of stool detection
CMOS collection of the appearance, morphology, color, and properties of stool specimens
The data of the CMOS acquisition via microscope inspection are displayed on the monitor and pictured for storage.
Tumor marker examination: colloidal gold test.
Examination of pathogenic microorganisms: detection of colloidal gold.
Parasite inspection: collection of egg microscopy and colloidal gold test.
Product Features
1. Automatic

Automatic quantitative dilution
Mechanical stirring inside a closed environment
Concentrated specimen
Automatic attention counting pool
Each reagent can have multiple reagent positions to ensure continuous operation of the instrument
120 specimens per hour, 7 specimens per specimen
Constant temperature function to ensure correct and stable reagent reaction
2. Airtight
Hermetic specimen
Closed pipe
Instrument sealed
Containment of waste
3. Egg collection
Isolate and concentrate parasite eggs
Automatic filling into counting cell
Automatic egg collection
Product performance
1.High definition imaging system
Provide the best field of vision and clear images, all processes are automated, automatic field of view conversion, automatic focus adjustment, and the images provided are intuitive and clear, which greatly reduces the labor intensity of operators and improves work efficiency.



2. Counting pool: designed according to standard counting board with high precision.



3. Microscopy: automatic three-dimensional humanization operation, get the clearest picture, the picture can also be enlarged during observation, which is convenient for the operator's cell counting and other observations.



4. Colored background technology
For HALO series machines, the image uses a unique colored background technology to make the image clearer. In particular, the contrast of red blood cells is increased, making the edges, contours and shapes of cells easier to recognize.


5. Sample needle cleaning


Teflon is specially treated without leaving any residue.
Long cleaning time and high cleanliness.
Combining air with cleaning liquid, it produces air bubbles.
Rinse the specimen again and clean it again.
6.Simple man-machine interface and intuitive operation.


7. Multimedia Technology
The operation interface and the browsing report are independently displayed, and the size of the picture is adjusted arbitrarily according to western medicine, which greatly improves the work efficiency.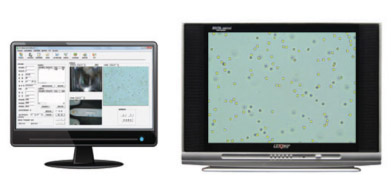 8. Alarm
When the instrument fails during operation, it will automatically alarm to facilitate quick troubleshooting.
9.Remote technical support
A variety of report formats, complete graphics, for users to choose. It can be connected to the hospital network and supports remote data exchange.
Automatic block removal, can achieve continuous work of 10,000 specimens without blocking.


10.Automatic block removal function to achieve continuous work of 10,000 specimens without blocking.

Report Form
A variety of text reports in compliance with national regulations can be connected to the hospital network and support cloud data.
Comparison of HALO fully automatic feces analyzer and traditional manual feces analyzer

| | |
| --- | --- |
| HALO series | Traditional equipment |
| Fully enclosed: automatic operation, the inspector does not touch the specimen | Open type: manual operation, the inspector touches the specimen |
| High efficiency: continuous and high-speed processing of multiple specimens | Low efficiency: only specimens can be processed individually |
| Accurate sampling: standard sampling spoon, quantitative analysis | Random sampling: sampling is not accurate and cannot be quantified |
| Automatic dilution: quantitative automatic | Manual dilution: inaccurate addition |
| Specimen is fully mixed: high-speed mechanical stirring and mixing | Insufficient sample stirring: manual stirring |
| Automatic separation of specimens: automatic operation | Manual separation |
| Automatic egg collection function (patented technology) | Manual egg collection: complicated operation |
| No smear: automatic intelligent specimen transfer | Manual smear |
| Intelligent image processing: automatic photo taking, storage | Manually filled, non-standard, error-prone |
| Reporting standard: specification report, print automatically | Manual observation, cannot store images |
Consumables list
| | |
| --- | --- |
| Fecal Constransor | 480Pieces/1Carton |
| FOB Test | 40person/case |
| H.Pylori Ag Test | 20person/case |
| Rotavirus Test | 20person/case |
| Rota/Adeno Combo Test | 20person/case |
| Helicobacter pylori (HP) Antigen detection kit (colloidal gold method) | 20person/case |
| Transferrin (Tf) detection kit | 20person/case |
| Calprotectin detection reagent (colloidal gold method) | 20person/case |
| Diluent | 10L |
| Bleach | 10L |
Patent
We obtained USA, Russia, Japanese patent.
Related products
Automatic Feces Analyzer
It's a new fecal occult blood test system to measure the amount of hemoglobin present in stool for screening and early detection of colorectal cancer.

Fully Automatic Digital Feces Analyzer
6 Performance Advantages To Meet The Demand Of Feces Detection: Thoroughly address the discomfort and displeasure caused by the color, odor and infectivity of stool samples. Make fecal testing safer, more standardized, smarter, more efficient, and more pleasant. Complete screening system based on intelligent analysis