Automatic Feces Stool Analyzer For Hospital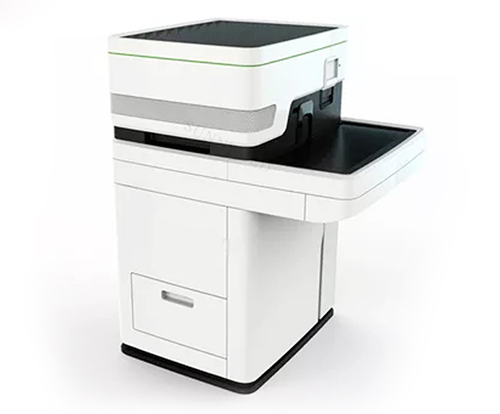 Technical advantages:
1.Integrated design, Overall appearance, Without Workbench (optional dedicated base cabinet)
2.Built-workstation, Space saving, Improve efficiency
3.Continuous injection cycle, Specimens of large customers to meet
4.Three-channel microscopy, Comprehensively improve the detection speed
5.Microscopic examination of automatic identification technology (Core Technology)
6.Three test card positions, Special reagents, A sample can simultaneously detect seven kinds of immunization programs
7.Detection rate, 100-180T / h
8.Data Storage, Store> 300,000test results
Test items:
Fecal routine test: General Characters, Microscopic examination.
Fecal occult blood test.
Transferrin
Rotavirus
Adenovirus
Helicobacter pylori
Fecal parasite ova collection and countingTest itemsFecal Ova collection cup
A dedicated sampling spoon In the Collection cup, Quantitative sampling, One spoon one time.
U-type filter framesymmetricalstructure,inline with principles of physical flows through the high-speed rotation, generating vortex flow, fluid mechanics principles for manure dilution, mixing, Separation filter and ova collection.
U-type filter frame has two sides of the filter screen, one forfecal filtration; another for ova collection .
Feature:
Microscopy system
fully enclosed high-precision microscope system
Three-channel microscopy, Comprehensively improve the detection speed
With full focal length layered scanning technology (core technology)
AF(Autofocus), Automatic conversion vision, Automatic switching low magnification
Appearance by initial judgment to select the length of time of the examination, thereby saving time and reducing the false negative rate
Microscopic examination of automatic identification technology, providing the greatest degree of clear and accurate microscopic images (core technology)
Operating condition
Ambient temperature: 15℃~ 32℃
Relative humidity: ≤72%
Atmospheric pressure: 86.0kpa ~ 106.0kpa
Power frequency: AC220V ±22V; 50Hz ±1Hz
Rated power: 180W
Related products
Stool Automatic Analyzing System
Routine fecal sample tests, including general characteristics, microscopic analyses, and larva and protozoa tests Fecal Occult blood test by immunity method and/or chemistry method Virology tests: Rotavirus, Adenovirus, Coxsackie virus, Hepatitis E virus, and Poliovirus

Automated Feces Analyzer
Automatic Feces Test Processing:Receive fully automatic processes from Specimen Processing, Morphological Examination, to Immunological Test.Full Filtration Specimen Processing Technology, Accurate specimen processing technology.Bio-safety Waste Treatment